Exhibitions
Written by Val Hunt
Friday, 11 May 2012 07:43
The Dayton Creative Syndicate earned the title of "Judges' Choice" for the May 2012 installation of Activated Spaces. "We all know our members are creatives in their own right, but getting recognition from the community for doing great work, that's an honor unto itself," says Public Service Coordinator Artie Toth, who headed up the project.
The judges scored each Activated Spaces entry on creative and inventive use of medium, innovative style and concept, outstanding technical proficiency or craftsmanship, and how well the theme was expressed. Check out this award-winning installation yourself tonight at Urban Nights. You'll find the project in the windows of the Biltmore Building at First and Main streets in downtown Dayton. Support DCS and this cool project by voting for the installation as a People's Choice winner!
Activated Spaces is a project led by updayton and Generation Dayton as part of the Greater Downtown Dayton Plan. "The goal of Activated Spaces is to invigorate our urban areas and fill vacant downtown storefronts," Artie explains. "The first step is art installations, and DCS is proud to have participated (and been a top-tier entry) in all rounds so far." Subsequent installations beyond the art exhibits include Pop-Up Shops, which are short-term spaces for services and retail, with the goal of reaching the final phase, long-term tenancy.
The theme for this Activated Spaces installation was "Naturally Dayton." Applicants were to demonstrate how Dayton's natural spaces contribute to our city's unique vibe. "I chose the focus of the DCS project to be the PNC 2nd Street Market," Artie says. "If you've never been to this year-round farmer's market at the corner of Second and Webster streets, it's worth a visit. They sell fresh produce, bread, spices and wine, as well as handmade goods like jewelry, clothing and accessories, vegan soaps, upcycled crafts and artwork. Not only does the venue show off Dayton's 'natural' features, it supports diverse and eclectic creative industries, which marries with the DCS mission perfectly."
Want to use your creative powers for good and be part of fantastic projects that make your city a vibrant and great place to live? This e-mail address is being protected from spambots. You need JavaScript enabled to view it or become a member today!
Last Updated on Friday, 11 May 2012 08:51
Education
Written by Keith Lambert
Wednesday, 11 April 2012 14:39
Design students -- why waste time with generic reviews for your portfolio? In this economy, an outstanding portfolio will help you rise to the top of job applicants. Outshine the competition and get one-on-one feedback from local design experts who will help you polish your portfolio until it gleams!
Student and DCS member alike can take advantage of this annual event. Bring your portfolio to the school of advertising art on Wednesday, April 18, where your work will be critiqued by local professionals in a one-on-one setting!
Start the night out with a panel discussion and gain valuable insight to the creative industry from local experts. Bring your curiosity and and open mind so you'll be ready for the open Q&A session that follows. Reviews begin around 7 p.m.; portfolio review participants will be matched with an expert who shares their interests. While you wait for your one-on-one session, join our discussion group with recent grads and other burgeoning pros as they share what it's like to transition to the creative working world.
Make your reservations now. Early sign-up fees are $10; $15 at the door. DCS members who are not getting their portfolio reviewed are invited to attend the panel and discussion groups free of charge.
If you'd like to learn more about the DCS educational programs, or have ideas to share for an upcoming educational event, contact Education Coordinator This e-mail address is being protected from spambots. You need JavaScript enabled to view it .
Greater Dayton Advertising Association
Written by Val Hunt
Friday, 21 October 2011 14:22
DCS sister organization, AAF-Dayton, is celebrating its 100th anniversary--starting with last Hermes Awards and concluding at the 2012 Hermes. Coming up Thursday, November 3, AAF-Dayton is hosting its 100th Anniversary Retrospective, hosted by Cox Media Group Ohio, featuring a number of events:
RETROSPECTIVE
AAF-Dayton has been sifting through the archives and will have historical documents and photos on display, and they're seeking other Dayton-area agencies, printers, design studios, and businesses to tell their story, as well.
Displays can tell any story: the history of your agency, award-winning client work, favorite pro-bono work--whatever you want to showcase from your archives. AAF-Dayton is are asking for a $100 sponsorship donation that will cover display space and event promotion. Click here for sponsorship the details.
SILENT AUCTION
Get your holiday shopping done early and gift some uniquely Dayton items via the silent auction. AAF-Dayton is seeking more prizes to auction off. If you or your business would like to promote yourselves by donating an auction item (suggested retail value of at least $100), contact AAF-Dayton and be one of the first to be added to the list.
Donations are extremely important and greatly appreciated. Funds raised will support scholarships, public service campaigns and programs. Donors will receive pre-event publicity, which includes an item/donor list posted on the AAF-Dayton website and e-mail blasts.
If you have any questions, please feel free to call Sara McCatherine at (937) 248-4697 or e-mail her at  This e-mail address is being protected from spambots. You need JavaScript enabled to view it .
MONTHLY MEETING
This event is also considered the November monthly meeting. This event will feature hearty hors d'oeuvres, limited beer and wine, and tours of the Cox Media Group Ohio facility, which has expanded to include the TV and radio stations.

Here are the details:
Date - Thursday, November 3
Location - Cox Media Group Ohio, 1611 S. Main Street
Time:  Registration begins at 5:30pm.
Cost: AAF-Dayton Traditional & Company members, no cost; AAF-Dayton Associate & DCS members, $30; Non-members, $40.
Reservation deadline is Friday, October 28. Reservations made after that date, and walk-ins will be $5 higher.
Cost includes hearty hors d'ouevres and 2 drink tickets.
Cancellations must be received prior to NOON on Tuesday to receive a refund (if applicable).
No-show's and late cancellations will be charged the full event price. You may send a substitute; just be sure to contact us at (937) 248-4697.
If you make a reservation but are unable to attend, we are still responsible for the cost of your food. As we sometimes have a waiting list, please let us know even if you must cancel your reservation later than the refund deadline.
Friends of DCS
Written by Keith Lambert
Monday, 10 October 2011 16:10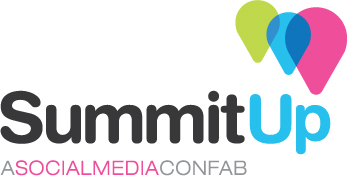 If you're involved with commanding social media for your business or civic organization (or if you'd like to join the conversation and aren't quite sure how to jump in with both feet), you can't afford to miss SummitUp. This year's event takes place October 18 at Sinclair Community College. In response to attendee surveys, this year's event will only be a half-day, starting at 8 a.m. and running to noon.
Members of DCS and AAF-Dayton can get in at the $49 member rate. (Non-members can attend for $69.) For that, you will get four incredible speakers, breakout sessions, networking with like-minded professionals, breakfast, snack, and free parking in the garage.
Inspring speakers will engage you with keynote addresses and facilitate breakout sessions to help you learn what/how your business should be using the web, tips for developing a social media strategy, establishing and using ROI to demonstrate your social media success, and more!
Check out the website for details. See you at the summit!
Last Updated on Tuesday, 11 October 2011 15:30
Education
Written by Val Hunt
Tuesday, 30 August 2011 14:03
There's plenty of controversy surrounding the validity of spec work -- that is, when a client requests the finished product or sample of the finished piece before compensation for the creative work has been agreed upon. Dayton Creative Syndicate wants to help you cut through the assumptions and reach a better understanding of this important issue through dialogue. Education Coordinator
Kate Anderson
has assembled a terrific lineup of local experts for the
Spec/No Spec panel discussion
on Thursday, September 8, at
Real Art's building
, 520 E. First St. in downtown Dayton.
Libby Ballengee,
TSI Graphics
: Libby, who has been a DCS member since its founding, is a photographer and art buyer for TSI. She says it's important for artists to be on the same page when dealing with hot-button issues. "Anytime people from different fields in the creative industry have a collective issue, it's beneficial for everyone to discuss the pros and cons to come up with a good solution so no one get taken advantage of."
Scott Hull,
Scott Hull Associates:
This designer-turned-small-business-owner has a wide range of clients from local mom-and-pop shops to national brands. He's lived in the Dayton area for about 34 years and is proud to be one of the charter members of DCS. His passion for creativity and promoting the profession drives his desire to participate in Thursday's panel. "There's a really good video, '
The Vendor-Client Relationship in Real World Situations
' that works as a good metaphor," he says. "I'd just like to see this arrangement tried with any other profession. You don't ask a doctor, lawyer, mechanic, plumber, etc., to give you free samples of their work, do you?"
Brian Wilson,
Wilson Advertising + Design
: A graduate of Dayton's own school of advertising art, Brian has been working in the advertising industry since 1986 and has been a member of AAF-Dayton for about 12 years. He says the wide range of opinions surrounding spec work makes this topic an important one to discuss for creative professionals. "There's never a tried-and-true answer to circumstances to why you do or don't do (spec work), so it's important to talk about issues," he says. "There are two very good reasons why creative professionals should attend this panel discussion. First, technology is driving the accessibility for clients to have access to spec work, and second, if you're new to the industry, it's insightful to see the long-term effects for people who have gone through years of combatting spec work. There's a time and place for spec work, and attending this panel can give you insight to what would be the best course of action."
Artie Toth,
Lucid Design
: This Ohio University grad took his graphic design degree and moved through various roles, taking on the mantle of graphic designer, art director, business owner/principal and marketing. "Through this rich learning process, objective-driven integrated marketing has become a primary focus in my career path. I love everything art and design," says Artie, who has been living in the Dayton area since 2006. Artie, who also is the public service coordinator for DCS, says this panel discussion is beneficial for designers and artists because it deals with a crucial topic -- money! "Getting paid for what you do is of fundamental importance, right?"
Philip Roestamadji, Wilmer: Phil, an eight-year Dayton resident, has an extensive background in technical marketing, including marketing/selling development tools and products to a technical audience, as well as working on and managing various technical projects to support and promote marketing efforts. "This has caused me to work on everything from building a new website/application for an organization to developing marketing/sales strategies to launch a new development environment," he says. Phil also brings experience working in various different organizations from larger corporations to smaller local businesses, and even independently as a freelancing consultant. A member of the American Marketing Association, Phil says spec work is something that will never go away. "As long as a consultant/freelancer/agency/business wants a contract/job/opportunity bad enough, spec work will always be an option. Therefore, it is important for both the (client) and (vendor) to have a clear understanding of what spec work is, when it should be used, and how it can be evaluated." Phil admonishes all creative professionals to familiarize themselves with the concept of spec work as it is prevalent in technical, marketing, and other fields where competition for a job or contract exists. "Understanding its place
within the professional community is critical to everyone's success," he says.

Check out the Spec/No Spec panel discussion on Thursday, September 8, starting at 6:30 p.m. at the Real Art building. Come with questions and an open mind, and leave with a better understanding of the client-vendor relationship. If you're interested in learning more about the
EdYOUcate series
or if you have ideas for upcom

ing educational events, contact
Kate Anderson
.
Last Updated on Thursday, 08 September 2011 15:04